For free Medals

 presents: click here.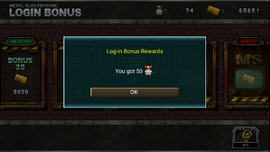 The Login Bonus are free bonus rewards that are given to the player every time he/she opens the game and is considered an easy way of obtaining Units, MSP, Medals and Items.
The list does not reset if a day wasn't claimed (unlike many other games with this system).
Login Bonus:
And then the other prizes will follow the same cycle afterward and will stop in 470 rewards: